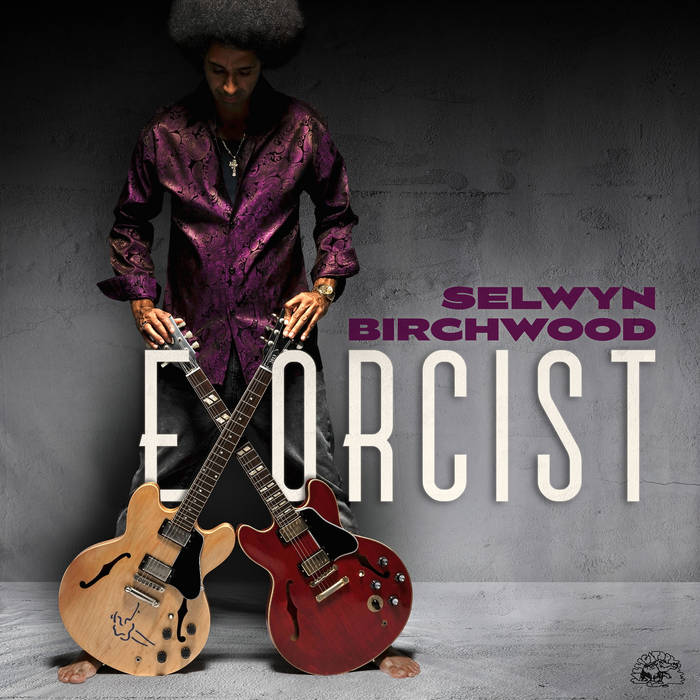 Selwyn Birchwood, the burgeoning bluesman from Florida, has spent upwards of ten years teetering on the edge of blues music stardom, trailblazing a name for himself and The Selwyn Birchwood Band through non stop touring and a colossal radio presence. Despite the chart-topping, crowd-moving success of Birchwood's career thus far, the bluesman's sixth record, Exorcist, proves he is not yet content with his standing within the industry, conjuring up an album full of blistering guitar solos, convincing vocal performances and richly vast instrumental arrangements. Exorcist isn't merely another record to get lost amongst the bluesman's catalog; rather, it is a love letter to the vastness of the blues, beckoning its listeners to become immersed within Birchwood's lively and unique take on the beloved artform. 
Birchwood proves he understands the importance of an opening track with the personally triumphant "Done Cryin'." Bursting at the seams with red hot guitar riffing and an enthusiastic rhythm section, "Done Cryin'" is a bold statement from the bluesman without deviating too far from the genre's mainstays. Birchwood details the aftermath of a former relationship, one plagued with deceit and infidelity; his full and booming baritone nonchalantly speaking the refrain "Im done cryin'," while a fiery guitar and jazz keys swagger close under. 
The following track, "Florida Man," pivots the momentum of the record, with a loud and groovy instrumental swarming with hard-hitting drums, roaring guitar and jazzy keys. While Birchwood's songwriting is lighthearted and playful, the track plays out as a near gimmick conceptually, droning on about the larger-than-life tendencies and wacked-out headlines concerning the infamous Florida man without offering any material that ventures much further than satire. 
Birchwood continues to lose his footing throughout the following two tracks, as "Horns Below Her Halo" follows a tired concept accompanied by undeveloped and shallow song-writing, while "Underdog" suffers from a crudely constructed chorus that begins to become grating after one pass through. Despite the fumblings of Birchwood's writing on the two tracks, both feature layered and engaging instrumentals, garnished with his signature guitar playing, that prove to sonically redeem the songs for listening. 
The fifth entry on the record, and the title track, "Exorcist," is an immediate uptick. A funked-out, reggae infused concoction of keys and percussion, accompanied by Birchwood's ever-present guitar, bounces below a tale of a love-turned-evil. The percussion and bassline find and dwell within a pocket that'll dizzy the head-bobbing listener, while a piercing saxophone solo steals the track at its midpoint. Instrumentally, "Exorcist" finds The Selwyn Birchwood Band functioning at maximum capacity, morphing continuously over the track's five minutes. A conclusive refrain escorts the song to finality, enveloped in a roaring guitar performance and surrounded with soul-filled backing vocals. 
"Lazarus" and "Hopeless Romantic" capitalize on the revitalized momentum garnered from the great "Exorcist." The former features one of the album's most out-of-left-field instrumental arrangements and ear-worm chorus'. While "Lazarus" fails to dive properly into its teased concept of spirituality and death, its faults are fully excused by an infectious tangle of jazz keys, horns, powerfully sung notes and backing harmonies that insist on creasing a smile onto the listener's face. While "Hopeless Romantic" is a less potent listen, the slapped guitar picking and extensive mid-song solo offers an intense and lasting groove. 
Track eight, the gargantuan seven-minute "Plenty More To Be Grateful For" is perhaps the record's most frustratingly disappointing cut. The groundwork for a potentially great track is laid out in the form of stank-face inducing snare hits and a vast arrangement of horns, keys and strings that intertwine together in harmony. Birchwood's writing, however, is mildly shallow and preachy, beckoning the listener to get over their hardships and adopt a positive mindset instead. The track, conceptually, fails to go anywhere else, and instead leaves a sour stain on the the record where there could have been a vulnerable and triumphant anthem instead. 
The following tracks, "ILa-View" and "Swim At Your Own Risk" are blemished by similar writing mishaps. "ILa-View" features a generally stagnant instrumental, with the exception of funky keyboard solo bisecting the song; Birchwood advertises some of his worst song-writing as an increasingly bad run of simile devolves into the eventual line, "I love you like Instagram loves strippers." The latter track, "Swim At Your Own Risk," is an attempt at a narrative, accented by unsavory police-siren and water splashing sound effects. The entire song boils down to a concept that could have been pulled directly from a children's book, without the instrumental saying much in order to redeem what is easily the record's worst track. 
Exorcist's closing tracks, "Call Me What You Want" and "My Own Worst Enemy" boast some of Birchwood's most detailed and vulnerable lyrics on the entire record; "Call Me What You Want" is a concise and traditional blues cut, Birchwood detailing the aftermath of a tumultuous relationship and the process of moving on. The bluesman opens up with self-deprecating lyrics and streaks of humor that translate better here than anywhere else on the record. "My Own Worst Enemy" is a paradox within the context of the record; almost all of Birchwood's lyrical mishaps in "Plenty More To Be Grateful For" are mended within the track, exploring themes of depression and insecurity, while also delivering a percussive and layered instrumental. 
Birchwood's Exorcist is a spectacle to behold, leaving no corner of blues music untouched or untried; in his sonic journeying, however, Birchwood tends to fill layered and rich instrumentals with underdeveloped lyrics and concepts. It is when the two principals meet that the record, and Birchwood's talents, truly shine, giving way to the great title track "Exorcist," the introspective "Call Me What You Want," and the triumphant "Done Cryin'." While the euphoric highs on Exorcist are to be celebrated, it is difficult to filter through the lesser material without the record losing a portion of its magic. 
Rating: 6.5/10
Best Song: Exorcist
Writer: Brett Brose