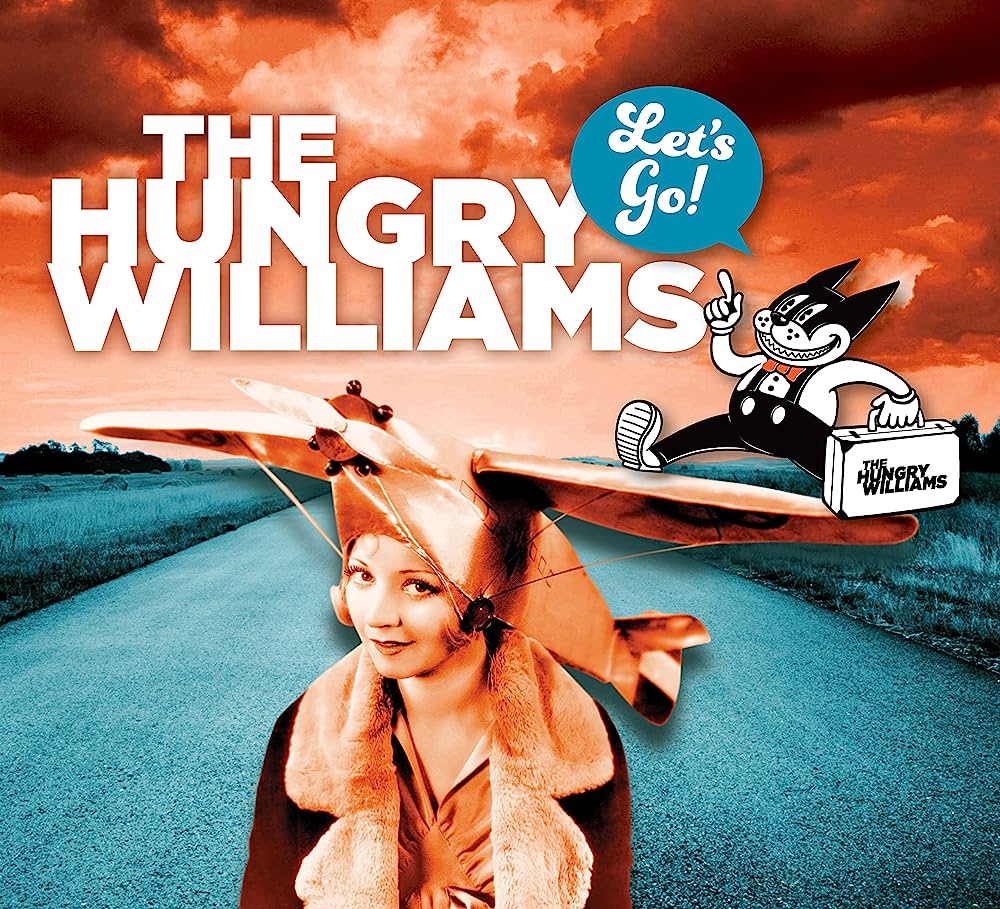 This dynamic local band is named after legendary New Orleans drummer, Charles "Hungry" Williams.  The Hungry Williams have been producing great music and an entertaining stage show in Milwaukee and around the Mid-West since 2018.  The band plays an energetic variety of danceable original music encompassing jump blues, New Orleans styles, and other regional R&B offerings.  The Williams' horn section personnel may vary, but the vital core lineup remains the same.  Led by veteran drummer John Carr, the band features vocalist Kelli Gonzalez, and several of Brew City's ace musicians. 
The Williams have recently released their sophomore effort, a self-produced CD entitled LET'S GO!, a  title that eschews restraint and says it all.  The disc's overall theme captures the lively and funky syncopated New Orleans R&B, offered by a tight ensemble laying down brilliant musical grooves, in several cases being original tunes.  The lagniappe to this, ie, the indispensable "something extra", is the album's fine production values, and excellent engineering and mixing.  
Digressing to talk about the stellar personnel of this band, seasoned bassist Mike sieger holds down the low end chair with distinction.  Joe Vent on guitar is the perfect foil for Jack Stewart on keys.  John Carr's drums are played with the precision of a Rolex, as well as tastefully and soulful.   Of special note, Vocalist Kelli Gonzales' dynamics, personality, and desire to entertain and "sell" the song to the listener make this band's live performances an exhilarating musical gumbo, and that excitement comes through on "Let's Go."
The opening track, Mardi Gras Day, is a New Orleans second line rave-up, penned by Carr and Gonzalez, and features a compelling trumpet solo, and fine horn accents throughout.  Coupled with an infectious tempo and drive, the tune is fun, danceable and pleasing. The next cut, Movin' On, was written by Jack Stewart, the band's keyboardist, who furnishes Fats Domino-esque piano, which drives the song along nicely. You'd Better Find Yourself Another Fool is less reminiscent of Crescent City stylings.  To this set of ears, it leans more toward doo-wop adjacent R&B, ala "The 5 Royales" who came out of North Carolina. It's presented with fine vocal background singing and playing. One Monkey Don't Stop No Show is a great R&B chestnut from Big Maybellle, and it seems particularly suited to vocalist Kelli Gonzalez.  Once again, the horn work is on point! Gee Baby is a danceable song with a 50s vintage sounding easy NOLA groove, full of horns and featuring a tasty sax solo. Boss Man is a paean to a certain specimen of a big boss man, by his lovestruck devotee, and offers a very cool sax solo on this song. Big Mouth Betty is a cute story-song about a girl who incessantly talks without so much as coming up for air, and the dire warning, "…leave that girl alone…"  But you wouldn't want to leave the horn section alone on this tune, as it provides a particular luster to this song. Ooh-Wow provides guitarist Joe Vent the opportunity to step up to the mic to deliver a strong, rousing cover of this Roy Montrell classic. Then I'LL Believe is a true R&B specimen one might expect to hear emanating from a club on Frenchman Street in New Orleans.  It boasts a beautiful groove, and fine playing throughout. 669 Across the Street from The Beast is a tongue-in-cheek twist on a showing of sympathy for Beelzebub, and late in the tune features comedic dialog by the fallen angel himself.  Musically, it presents nice slide guitar accents between vocal lines in a call and response fashion, and a stellar sax solo.
"LET'S GO!" by the Hungry Williams is a fine release that will have the listener up and dancing around the living room.  If you are a fan of classic New Orleans styled R&B, or R&B of any region south of the Mason Dixon line, "LET'S GO!" will be a great addition to your collection. 
By John DeStefanis
(with a little help from his friends)