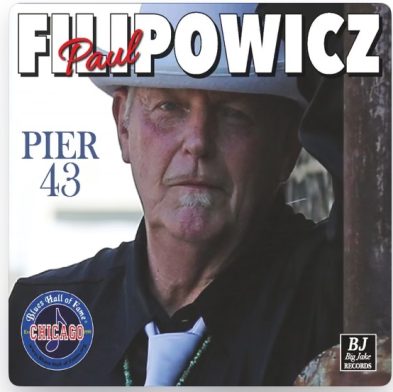 Pier 43, the 11th album from Chicago blues legend, Paul Filipowicz, is a triumphant summary of Filipowicz's career to date, brandishing his tell-tale rugged vocals and delivering each guitar solo with soul-filled conviction. Throughout the record's 53 minutes, the blues veteran traverses through an expansive repertoire of playing and song-writing styles, ranging from classic shuffles like "Angel Face," gritty, atmospheric instrumental tracks like "Pier 43," to the deconstructed, seven-minute outro, "Use My Imagination." Each song is a testament to Filipowicz's musical prowess and familiarity, calling upon beloved musical notions from the classics and blending them seamlessly with forward-thinking and innovative execution.
The opening track, "Old Time Superstition," erupts with a roaring slide guitar, quickly accompanied by a march of tom and snare hits. Filipowicz's vocals are weary and weathered through decades of use, each sentence slurring into the next as he speaks. "Old Time Superstition," details a fit of paranoia, Filipowicz living in fear of the "voodoo moon" beyond his window. The track is bisected by a deft slide guitar solo, emblematic of Filipowicz's instrumental proficiency, before tapering out in one last refrain.
Track six, "Hip Shake," is Filipowicz's take on a boogie anthem, equipped with heavily amplified guitar riffing, a bouncing bass line, crashing symbols, and an infectious chorus—the blues legend beckoning listeners to "do the hip shake" as a lively instrumental tantalizes the prospect. While Filipowicz's vocals merely get the job done, his fingerpicked riffs capture the spotlight—the instrument emitting any and every note that the bluesman wishes to summon with undeniable deftness.
The final track on Pier 43 is the bluesman's most emotional and vulnerable track yet, navigating a tale of loss, heartbreak, and perseverance. Filipowicz's voice is hoarse with strained recall as subdued brass and mellow electric strings linger just above an instrumental foundation of bass kicks, tom hits, and keys. Throughout the 7-minute runtime of "Use My Imagination," the morphing instrumental makes way for keyboard and guitar solos, each played with potent emotional conviction. Filipowicz's refrain is soaked in pain, yet tinged with hope, as he croons, "Got to use my imagination, find a real good reason, to keep on keepin' on."
Pier 43 is a personal record that features the ups and downs of a classic bluesman. Those ups and downs can be spotted throughout the tracklist with the occasional unsavory vocal performance or half-boiled concept. Tracks such as "When I Get to Town" or "Humdinger" suffer from those very drawbacks, with moments of undecipherable ramblings and surface-level, redundant writing. "Poor Mans Throne" features some of Filipowicz's most angry and politically charged lyrics on the record; however, the blues veteran's singing is indifferent and seemingly unconvinced of the narrative being portrayed.
Despite the sprinkling of mishaps throughout Pier 43, Filipowicz continues to cement himself throughout the record as a truly remarkable and timeless guitarist. It is impossible to doubt the bluesman's capabilities on his instrument; every effortlessly executed riff reminds the listener why Filipowicz is, and will always be, an integral figure in Chicago blues.
Rating: 7.0/10
Best Song: Use My Imagination
Writer: Brett Brose