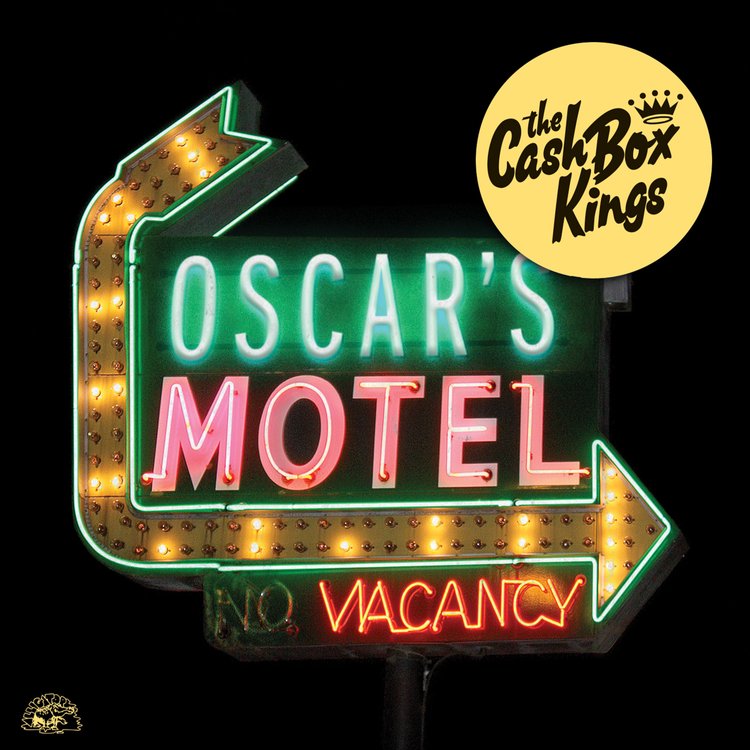 The Cash Box Kings Oscar's Motel is rooted in solid traditions of 60s Chicago Blues, New Orleans jazzy blues, and delta blues.
Oscar's Motel, their tenth album was released in March to immediate enthusiasm and airplay by the satellite and internet blues stations as well as radio blues shows.  Nine of the eleven songs were written by members of The Cash Box Kings. Some of the best songs are written about current experiences, just as the greats of the 1960s electric blues did in their time. Other bands try to copy the styles but few pull it off so convincingly.  That authenticity comes naturally to these talented band members, some, like Kenny "Beedy Eyes" Smith who grew up with the greats in their own homes, or others, like guitarist Billy Flynn and singer Oscar Wilson who played with many of them.  
Songs, like Down On The South Side are refreshingly funky.  The album includes some rockabilly, swamp, delta, and jump blues as well.  I liked most of the tracks on my first listen and after a few more plays, every track is excellent and some are earwigs I can't get out of my head.  There is plenty of tongue-in cheek humor here as well.
The title track, Oscar's Motel is the first single released, which artfully borrows from Howlin' Wolf and is about a party motel to visit when you are down and out, complete with a juke joint bar, barbeque chef and Oscar's great big bed.
I Can't Stand You is based on a good-humored Facebook argument between Oscar Wilson and Deitra Farr.  The band wanted to make a song about it, so they invited Deitra to contribute her own side of the argument, which she dished out in spades on this innovative shuffle.
Hot Little Mess is an infectious New Orleans style earwig, sung by harmonica player Joe Nosek.  It is a story about the unbridled, antics of a hard partying girl from the perspective of a guy who's got a longing crush on her.
Nobody Called It The Blues is a gem of this album. It starts as a field holler reminiscent of the plantation era, then quickly morphs to a catchy shuffle about how the music got his people through hard times and how the blues still serves that purpose.
Trying So Hard is done in a Muddy Waters style, composed by Billy Flynn from his 1997 album, Blues Today.  Oscar's singing on this song is so stirringly heartfelt, maybe because he feels the story fits his own life like a glove.
She Dropped The Axe On Me is reminiscent of Sun Records era rockabilly/blues.
I Want What Chaz Has is about a cool and colorful guy the band knows from Madison. Apparently, Chaz even contributed lyric ideas for this jazzy jump swing number.
Ride Santa Ride is a Chuck Berry style Christmas song.
Two cover songs, Muddy Waters Please Have Mercy, and Sonny Boy Williamson's Pontiac Blues, are faithful versions.  
The Cash Box Kings have risen from being a regional favorite to international success, mostly from their lively, good humored stage performances.  Next time you have the chance to see them live, I enthusiastically recommend going!
By Glen Goebel